Pet Door Products builds the highest quality, custom pet doors you can buy for your vinyl patio door and in addition, we execute end-to-end service from purchase to install. This is how it works when Requesting a Quote:
1. Select
Install Options
for your chosen door (listed on the Customize & Quote page)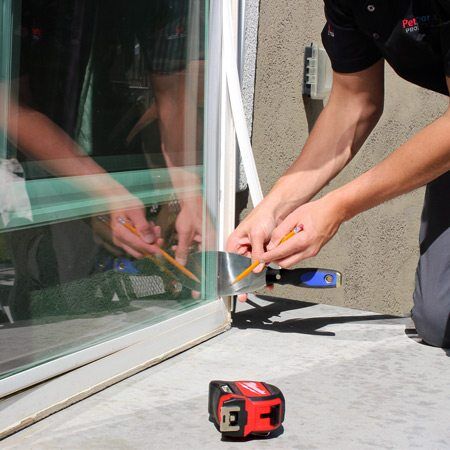 3. Install
Your New Pet Door!
The Pet Door Pro or local installer will return to install your custom door within 1-2 weeks after purchase or you can follow the DIY installation instructions provided here.
Not a DIY connoisseur? No problem! We got you covered - our Pet Door Pro's specialize in pet door installation and will reach out to you immediately after your order is completed to schedule a measure and subsequent install. (Your Pet Door Pro is assigned to you based on the zip code you provided.)
Find a Local Installer Outside of Utah
For customers who live outside our current Pet Door Pro territory we provide a concise directory of local pet door installers for you to choose from. Contact one of the listed installers to schedule the measure & install.
We manufacture our Pet Doors with the DIY customer in mind. The door is designed for a simple and smooth install into your existing sliding glass door. We provide clear measurement and installation instructions as well as prompt customer support.
If you are looking for the safest and most energy-efficient Pet Doors you can buy, contact Pet Door Products for a quote today! DIY options to install a dog door in sliding glass doors are available.